The History of ASF-Akron Steel Fabricators
Established in 1946, ASF has been recognized as an innovator throughout the tire and rubber industries. Recently, the ASF staff developed several standard lines of equipment that have won wide praise as some of the most dependable, consistent, and productive available. This vast industry knowledge and the experience of our in-house staff allows us to build a high level of reliability into everything we manufacture.
Our worldwide experience in developing and manufacturing custom equipment makes ASF the place to turn to for proven OEM machinery solutions and fast response to custom fabrication needs. You'll get the superior engineering and manufacturing capabilities that you can count on.
Today's Focus
Located in the rubber machinery manufacturing industry hub, ASF's 42,000 sq. ft. facility in Akron, Ohio, provides a comprehensive range of design, engineering, and manufacturing services to companies worldwide, specializing in the rubber handling industry.
ASF offers a full menu of in-house services, from custom CAD design and engineering to fabrication and assembly.
Serving the tire, rubber, plastic, and steel industries, ASF offers a complete line of proven standard machinery products, including new calenders and ancillary equipment, mill blenders in various sizes, slab cutter/feeders, and batch-off machines for large and small mixing operations. ASF has also recently redesigned and begun manufacturing the next-gen S2S Series Slitter, which offers a hassle-free cold slab stock cutting solution. In addition, the OEM line has provided excellent performance and long-term cost-effectiveness in manufacturing applications worldwide.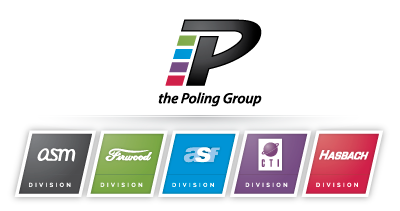 Five Divisions with One Goal ;
Remain a trusted, world-class supplier of tire testing, rubber machinery, and software to the tire manufacturing industry
©2023, the Poling Group. All Rights Reserved.