From Rubber Processing to Final Finish, the Poling Group can Help You Improve Your Tire Manufacturing Process.

CEO : David Poling Sr.
COO : David Poling Jr.

In 2021, David Poling Sr. officially merged his 5 complimentary companies into the legal entity 'the Poling Group', continuing and improving upon decades of excellence in the tire and rubber industries.
Founded : 1978
President : Brian Mitchell
Focus :
Final Finish Tire Testing, including Tire Uniformity Testing, Tire Geometry Testing, Center/Shoulder Grinding, Tire Marking, Installation, Spare Parts
Founded : 1940
President : David Poling Jr.
Focus :
White Sidewall Buffing, White Sidewall Painting, Post Cure Inflators
Founded : 1946
President : Leon Poole
Focus :
Cold Slab Stock Rubber Processing, Calenders, Calender Line Equipment, Mill Blenders, Batch Off Equipment
Founded : 1978
President : Troy Anenson
Focus :
Innovative Machine Contros, Tire Data Acquisition/Analysis, Tire Geometry Testing, Barcoding and Component Traceability, Tire Factory Data Management, Final Finish Host MES and Recipe Management
Founded : 1898
President : Alexander Hasbach
Focus :
Laboratory Tire Testing for Durability, Rolling Resistance, Force & Moment, Tire Noise, High Speed Uniformity, Run Flat Tires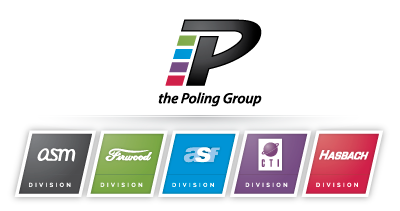 Five Divisions with One Goal ;
We are committed to being a globally trusted source for tire-testing equipment & software, factory data management, rubber processing equipment, and engineering solutions.
Home Page
|
Contact
|
Website Terms & Conditions
|
Privacy Policy
©2023, the Poling Group. All Rights Reserved.