The Poling Group is certified ISO 9001:2015 with design ( View Certificate )
The History of Hasbach
Many Poling Group customers have worked with Alexander Hasbach, President of the Hasbach Division. But they may not realize that Alexander continues as the fourth generation in a Hasbach family tradition of machine design and engineering excellence.
The original family business began in 1898 in Bergisch Gladbach, located in the Cologne/Bonn region of Germany. Alexander's great-grandfather, Wilhelm Hasbach, began production by specializing in heavy machinery fabrication.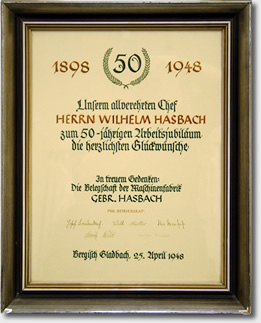 Alexander's grandfather, Joseph, developed the first drum testing machine in the late 1930s to test vulcanized rubber-covered road wheels produced by Bayer for track-operated vehicles. Over time, Hasbach redesigned the testing machine to accommodate pneumatic tires.
Under Alexander's father, Werner, the Hasbach tire testing machine was brought to the next level with the appearance of electronic drive controls to replace the previous dead-weight operation. Hasbach also expanded its offerings to include tire high speed and characteristic testers.
Hasbach's first interaction with the Poling Group occurred in the late 1990s when they collaborated with Akron Special Machinery and CTI to develop a high speed uniformity testing machine to evaluate tires, in a production environment, for a global tire manufacturer.
When Hasbach became an official part of the Poling Group in 2001, the addition of its laboratory tire testing machines fit in perfectly with PG's existing line of production testing machines. The Hasbach knowledge base built from the development of key R&D equipment also enhanced Poling Group's expertise in tire characteristics and dynamics.
Today's Focus
The Hasbach name and family tradition have brought a unique global perspective to the Poling Group in the design, manufacturing, and customer service areas. And that tradition continues with the Hasbach Division's Rolling Resistance tester, which provides testing needed to produce the fuel efficiency rating for Europe's EC 1222/2009 tire labeling requirements.
The Poling Group invested a great deal of development effort in the Rolling Resistance tester. For example, considerable time was spent in a "learn-by-doing" mode in a cooperative effort with leading global tire manufacturers. The discovery process resulted in machine improvements that allow the Hasbach Division Rolling Resistance tester to consistently meet or come in well below the sigma required by ISO 28580 within the specified 1-tire 3-test procedure. The Rolling Resistance Tester is available for motorcycle, passenger car / lite truck, and Truck/Bus tires.
Today, the Hasbach Division continues to improve and refine their line of laboratory tire testers, which includes testing for tire endurance, tire force & moment, rolling resistance, durability, tire noise, and run-flat tires – all available for motorcycle, passenger car/light truck, and Truck/Bus tire sizes.