The largest of our Tire Uniformity testers for large truck and bus tires, are loaded with the same great features and options.

Waveform Validation and Correction
A proprietary analysis of key machine parameters combining:
Current Waveform data
Key machine values
Historical performance
Waveform Validation will identify the poorly performing air regulator shown in this force graph, and Waveform Correction will remove its unwanted effect on the accuracy and repeatability of the radial force measurement.
THE RESULT: The most accurate and consistent measurement possible along with industry leading speed and measurement repeatability sigma.
TDAQ - Tire Data Acquisition
Innovative and practical, TDAQ was specially developed by Poling Group to apply modern technology to test data acquisition.
Because a single TDAQ can process load cell and pressure transducer signals, two TDAQ cables (power and Ethernet) now efficiently replace the many wires leading back to the control panel of traditional tire test machines.
THE RESULT: Simplified wiring, combined with data acquisition located closer to the source, produce stronger and cleaner signals to bring about a substantial increase in resolution.
TTOC6 Controller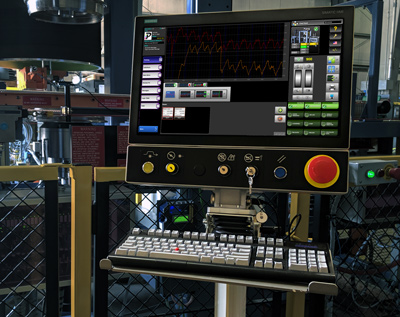 Our latest TTOC6 controller features new motion algorithms for tire sequencing, along with Waveform Validation and Correction software.
A testing machine with a TTOC6 and TDAQ data acquisition system can process tires SEVERAL seconds faster than any prior or currently competing machine.
THE RESULT: Now, your machines can satisfy production demands by testing, marking, and sorting more than 3 tires every minute while maintaining industry-required measurement repeatability.
Air Learn Software
The CX111 was the first generation of tire test machines to use Poling Group's new Air Learn software, and the overwhelming success of the system has now been applied to our MCX75 motorcycle TU and X150 Truck/Bus TU. Air Learn software that monitors the machine's air regulation performance and adjusts the bead seat air release to more quickly stabilize tire inflation to the desired set point
The X150 also features a new servo-driven regulator that is less prone to failure due to contaminated air supplies.
THE RESULT: Poling Group's improved air system delivers a faster load cycle, better measurement, and significantly reduced cycle time.
Automatic Adjustable Width Chuck (AAWC)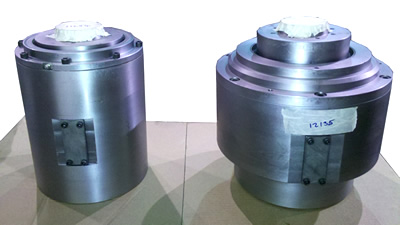 Updates to the AAWC stem increase cycle life and reduce failure:
A deeper undercut diameter along the nose cone traps debris with less chance of scoring and galling
We doubled the number of grease grooves and enlarged the grease feed holes
THE RESULT: A stronger design with superior availability, greatly increasing uptime to help you reach your throughput goals.
Patented Main Spindle Assembly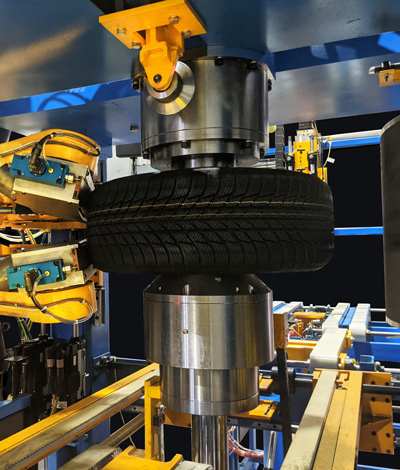 Our patented "cartridge" design main spindle assembly, now a standard feature for the X-Series TU Testers, makes it possible to completely replace a test machine spindle assembly in about 3 hours, greatly reducing changeover downtime.
With properly trained associates, you can rebuild the assembly in the plant workshop.
Or, take advantage of our spindle exchange program - replace your worn-out spindle with our factory rebuilt cartridge assembly, then return the old spindle to us. We'll only charge you for the necessary replacement parts and rebuild labor.
THE RESULT: Stronger spindle assembly is easier to maintain with our after-market service.
* Mandatory guard rails not pictured in
photography to show machine details
* Machine is CE Certified