The most thought-out, robust controller on the market. Software like WVC, MECC, Air Learn, TDAQ, and improved motion algorithms allow a testing machine to test, grade, mark, and sort more than 3 tires every minute.
Improved Capability
In addition to WVC and MECC software, the TTOC6 is equipped with Air Learn software that monitors the machine's air regulation performance statistics to quickly stabilize tire inflation to the desired set point.
Integrated with our Tire Data Acquisition (TDAQ) product to substantially increase measurement resolution and improve noise immunity.
Tire motion algorithms, along with WVC and TDAQ, allow a testing machine to test, mark, and sort more than 3 tires every minute, while maintaining industry-required measurement repeatability.
Simplified Maintenance
Fewer electronic components, less points of failure, better reliability
Online help with video for tooling changes
Web-based message logs, servo setups and machine configuration
"Instant Message" support at machine any time, all the time
Adapts to Your Control Methodology
Variety of customizable architectural implementations
Choose your PLC (Allen-Bradley/Rockwell, Siemens, etc.)
Distributed or rack I/O
Same full-function TTOC6 on new CX111 or Tier 1 Upgrade
Fits Your Business
Modular design for scalability enables phased approach to tire testing improvements
Compact flash drive allows standalone operation and no data loss if plant network fails
Built-in and optional data acquisition and integration help you achieve shop floor and product traceability requirements
Easy-to-use UI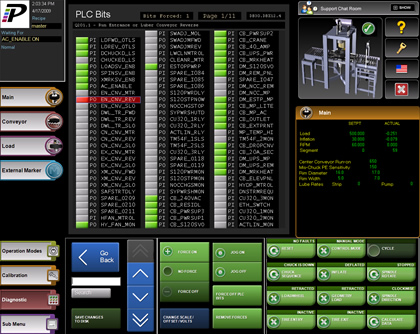 Diagnostics
Extensive Diagnostics allow maintenance to control various PLC bits.
Customize a "favorites" screen, mixing analog and PLC I/O to display status for any machine function. The search function also makes it easy to find I/O of interest.
The data window contains current settings and actual values related to a specific area of control.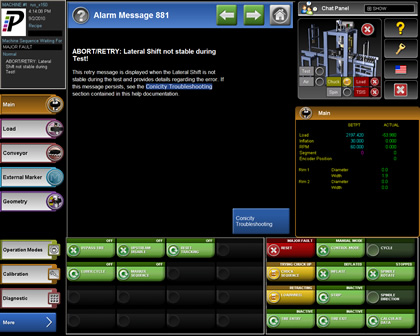 Customized Online Help
We customize our help to match our customized test equipment. It includes photos and video to explain operational procedures and troubleshooting methods.
Users can select topics for general help, while calibration help appears automatically to guide users through these specialized tasks.
For help with responding to the current machine problem, just touch the alarm message in the status window.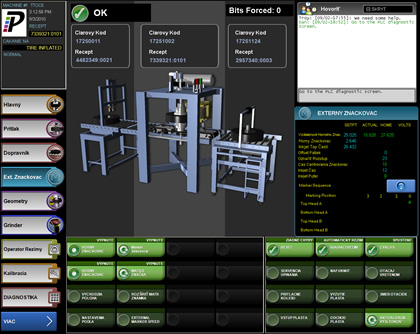 Machine Visualization and Remote, Real-time Support
The machine visualization screen displays status. The thumbnail version of the screen includes cycle status indicators, while the full size version includes tracking data and fault details. This information is also instantly available for plant supervisors and engineers -- from their desktop computer!
Real-time support is only a touch away in the Chat Panel. The Chat Panel blinks to alert machine personnel to incoming messages. Once expanded, this instant messaging application allows direct communication with Poling Group engineers to solve problems - without waiting for support to arrive on-site.