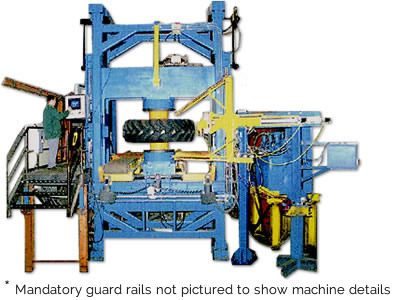 The AG-2540 provides total indicated runout (TIR) readings for agricultural tires that travel over 50 MPH.

The tire rotates at 30 RPM during the test, which takes about three minutes per tire.
Standard Features
TTOC6 machine controller
TDAQ - Tire Data Acquisition
2 entry conveyor sections
Tire pre-stage centering conveyor
Main machine conveyor
Gravity exit conveyor
Quick inflate system
Hydraulic variable speed spindle motor
Hydraulic actuated carriages
Automated radial runout assembly
Integrated upper/lower bead luber
3-30 HP motor hydraulic system
1000 gallon air supply tank
Optional Equipment
Marking station
Stepped rims
Rim change caddies
Tire loading bumper
Tire exit bumper
Powered exit conveyor
AG2540 Specifications

Outside Diameter
Min 36 in
Max 100 in
914 mm
2,540 mm
Cross Section Width
Max 60 in
1,524 mm
Tread Width
Max 60 in
1,524 mm
Inflation Pressure
Max 40 psi
276 kPa
Spindle Speed
Max 30 RPM
Bead Diameter
Min 20 in
Max 56 in
508 mm
1,422 mm
Tire Weight
Max 1,000 lb
454 kg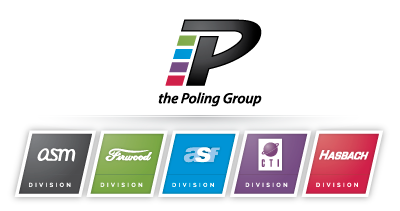 Five Divisions with One Goal ;
Remain a trusted, world-class supplier of tire testing, rubber machinery, and software to the tire manufacturing industry
©2023, the Poling Group. All Rights Reserved.