Spending too much time managing and downloading test recipes to a variety of machines?
Need an audit trail for recipes, limits, and results?
Having problems collecting and managing data from tire test machines provided by a variety of vendors?
Want to direct tire flow based on manufacturing data?
Consuming too many IT and engineering resources to implement out-of-the box solutions?
FFH solves all these typical tire factory floor problems!
FFH converts tire test results into actionable data. The basic system includes: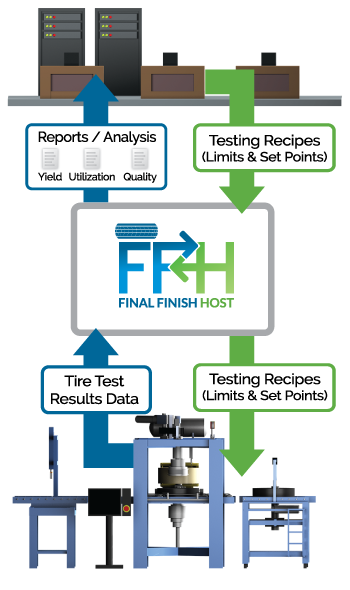 Automated Data Collection
FFH collects, summarizes, and stores test results for tire uniformity, geometry, and balance machines.
Centralized Recipe Management
Use a web browser to design recipes that include test sequence, grading limit, and machine setup parameters (such as servo positions), then download the recipes directly to the final finish machines.
Production and Uniformity Reporting
A variety of graphic and tabular reports display uniformity, repeatability, and machine utilization in PDF format.
Like other Poling Group products, FFH provides extra value because we customize it to fit your particular machines, operations, and business requirements. We developed FFH specifically for tire manufacturing final finish to provide the data and reporting you need to satisfy both external and internal customers.