Created for tire makers to create custom, on-demand tread labels, the TLM software offers a simple user interface that includes a drag-and-drop feature for stored graphics like the EU image, company logos, or other tire-specific / branding imagery.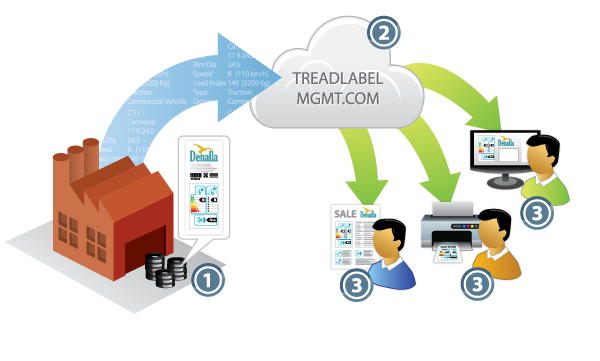 1

Database implementation allows manufacturers to update and maintain tire information



2

Fully hosted solution - site hosting, maintenance and technical support is included



3

Customized distribution/consumer experience using manufacturer's logos/branding

Consumer printable data sheets to meet EU guidelines

Kiosk web interface for use by distributors and consumers


TLM addresses all the key issues with the EU-mandated labeling of tires.
Label Creation
TLM boasts an easy-to-use user interface that's as simple as dragging and dropping graphics such as the EU Label, company logo, and information icons and text boxes to create a custom label specialized for your tires. The label printer is small in size and can be stationed at the most convenient location, creating on-demand high quality labels.
By locating the TLM printing solution directly in the operation center, you can reduce inventory, eliminate the waste of obsolete preprinted labels, and save money by having no minimum order quantities. With TLM, you can quickly adapt to changing customer requirements because you no longer spend time waiting for a third party to print and ship the labels.
Centralized Database
TLM is a hosted solution that centralizes data for all who need it. Once a tire's test information is entered into the database, stickers, on-demand printouts, and sales kiosks instantly access each tire's labeling information. The TLM software suite is web based, so it is extremely collaborative and easy to deploy - in the plant and also in remote locations like sales offices, distribution centers, and warehouses.
Information Where You Need It.
Whether you need the tire data for labeling, online consumer data sheets, or web-based kiosk stations at the Point-of-Sale, TLM has you covered.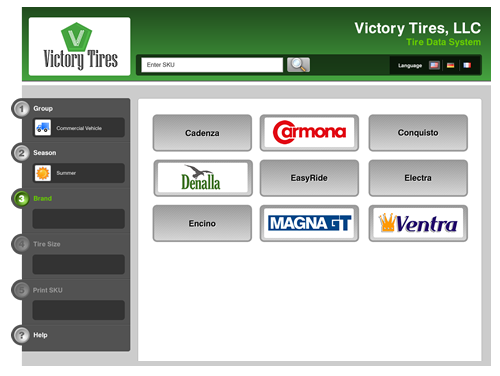 Easy to Use Kiosk
This screen shows the typical kiosk access method used by distributors and retail outlets.
To display the EU label/ratings sheet for a specific tire type, select different tire attributes on the screen or enter a search descriptor (like SKU) directly at the top of the screen.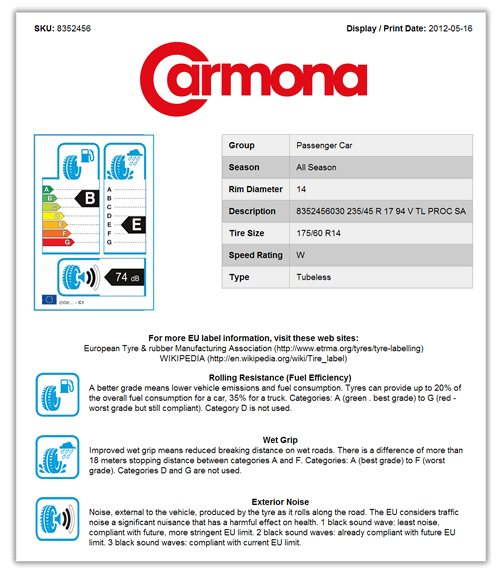 Cost-Effective Conformance
This typical output shows printable point-of-sale information for a specific tire type. Customize the data. Add logo, branding, and product features to turn EU conformance into a selling opportunity!
Warehouse / Distributor sites select and access the same tire information to print specially formatted tire tread labels on-demand.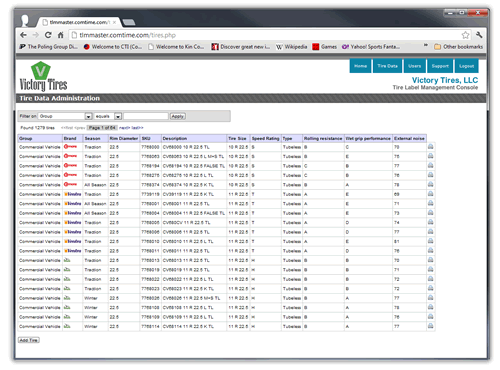 Tire Data Management
Authorized users at the manufacturer's site can update and change tire information 24 / 7 via direct edit or file transfer.
CTI hosts the tire data on its secure, reliable servers to minimize the total cost of EU tire labeling adherence.
You already have the data – we'll make it work for you.